Theater Review-So Farce, So Good at the ICT
So Farce, So Good:
Mark Twain's "Is He Dead?" at the International City Theater, Long Beach
by Leticia Marie Sanchez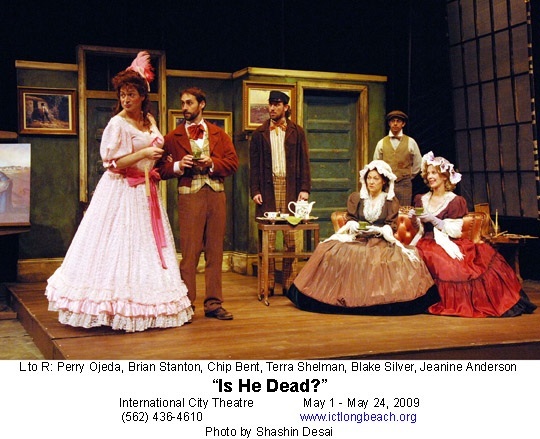 Mark Twain may be dead, but his work can still elicit quite a brouhaha. The hilarious West Coast premiere of "Is He Dead?" directed by Shashin Desai at the ICT proves that laughter remains the best medicine.
If it were not for the Shelley Fisher Fishkin, the mirth-filled play may not have seen the light of day. Dr. Fishkin, Professor of English and Director of the American Studies of program at Stanford University, discovered Twain's manuscript in the archives of UC Berkley's Bancroft Library in 2002. Never produced during Twain's lifetime, the play debuted in New York in 2007 and this month in Long Beach.
Upon entering the International City Theater, one sets eyes on the vivid and visually rich set designed by Stephen Gifford. Beautifully rendered replicas of Jean-Francois Millet's paintings grace the artist's atelier, easing the audience into the world of 19th century Barbizon, France. Mark Twain, author of "Roughing It," and former gold prospector, entered the European world himself during the 1860's and the 1890's. Much of the play's comedy derives from Twain's juxtaposition of the slapstick humor of the American West with the European sensibility of his cast of characters. The protagonist, French painter Jean-Francois Millet, determined to cast off the "starving" in Starving Artist, becomes embroiled in a scheme to fake his own death in order to drive up the value of his work.
The ICT cast spiritedly brings Twain's comedy to life. Perry Ojeda, poised and dignified as the illustrious artist Millet, turns into a bumbling live wire when disguised as Millet's buxom and zany "sister" Daisy Tillou. In addition to Ojeda, many of the actors reveal multiple facets of their personalities, creating hilarity. Even before he opens his mouth, Joe Fria, portraying a pompous British art collector, leaves the audience in stitches with his idiosyncratic walk. Later, Fria plays the King of France in one of the play's zaniest moments, a scene involving a fetid piece of Limburger cheese. Jules Hartley also shines as a chameleon, transforming from the dulcet French lady Cecile Leroux into a mustachioed French gendarme whose eyes throw daggers of rage. The entire ensemble keeps Twain's zingers flying at breakneck speed.
Twain's play exposes the hypocrisy of a society that often values artists more in death than life. Vermeer and Van Gogh are but two of many artists who lived in considerable poverty although their paintings today bring art dealers astronomical profits,approaching triple digit millions. Twain skewers this injustice, turning what could have been a tragedy into a pleasing melodramatic comedy. It is fitting that Twain once enjoyed life as a gold prospector, because in the esoteric archives of the Berkeley library Dr. Fisher discovered a nugget of comic gold.
Last remaining performances: 8pm Saturday May 23; 2 pm Sunday May 24th
International City Theater. Long Beach Performing Arts Center. 300 E. Ocean Boulevard. Long Beach.
ICT Box Office: (562) 436-4610.   www.ictlongbeach.org