Review: -Must See- Tennessee Williams puts the fun in dysfunctional at the Fountain Theater
Tennessee Williams puts the fun in dysfunctional at the Fountain Theater
©2011
by
Leticia Marie Sanchez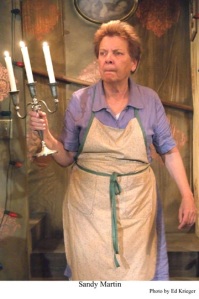 The Fountain Theatre's "A House Not Meant To Stand" deserves a standing ovation.  The dynamic cast, its Gothic set spewing forth leaks, and the darkly wry barbs of Tennessee Williams added up to a riveting performance of Williams' "spook Southern Gothic spook sonata." From Virginia Newcomb's rapturous ecstasies as born-again Christian Stacey to Lisa Richards' slithering portrayal of Jessie Sykes to Daniel Billet's sensitive portrayal of a protective son, the entire cast brought William's last play to life.
Most strikingly, Sandy Martin fully inhabited the character of Bella Mc Corkle: physically, mentally, and emotionally. Although the play brimmed with zesty zingers, Martin poignantly captured Bella's confusion and maternal loss with unsettling realism. Martin grounded the play as a spiritual anchor during literal and figurative tempests. In the hands of less-skilled actress, the play could have veered into slapstick, but Martin's soulful and whole-bodied interpretation evoked a heartbreak that lingered over the play like a rain cloud.
Sandy Martin. Photo by Ed Krieger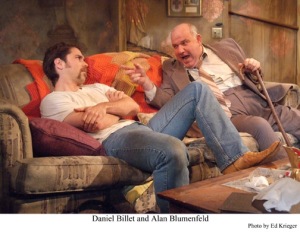 Alan Blumenfeld's performance (rendered all the more spectacular by the fact that he joined the cast only a few weeks ago) instilled Cornelius Mc Corkle with raw vitality. From bellowing rages to sly conspiratorial asides with the audience, Blumenfeld's vigor and spontaneity honored the dialogue of Tennessee Williams.
An actor with a deep range of emotional notes, shades, and undercurrents, he deftly managed to evoke sympathy for his cruel character. When Blumenfeld darkly lashed out at his son Charlie for his deep attachment to "mama," one could sense Cornelius' own repressed jealousy and vulnerability, a desperate need for approval channeled through quixotic political campaigns.