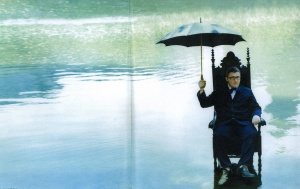 ultural Cocktail Hour caught up with Harper's Bazaar's Editor-in-Chief Glenda Bailey this weekend.This image from her latest book evokes touches of Caillebotte. It depicts Lanvin designer Alber Elbaz floating on Central Park Lake.
Elbaz dashed from the lake to attend the 2005 CFDA awards. Bailey revealed that at the ceremony, she "heard a squalching sound" behind her: Elbaz's sopping footwear. He had just won best international designer. As he walked on stage, no doubt the audience realized that they could not walk a hundred miles in his shoes.
Photograph© 2011 Harper's Bazaar's Greatest Hits by Glenda Bailey. Photographed by Ben Watts. Styled by Jacqui Getty.