From Playboy to Priest: Franz Liszt
November 27, 2012
|
|
Music
From Playboy to Priest: Franz Liszt
by
Leticia Marie Sanchez
Cultural Cocktail Hour® is a registered trademark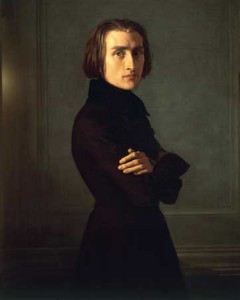 Screaming Fainting. Fighting over a pair of handkerchiefs and gloves. A dystopian scene out of Black Friday? No, just a day in the life of Franz Liszt. His female fans grabbed fallen strands of his hair, articles of his clothing, and broken piano strings. One lady snatched an old cigar stump thrown away by the pianist and encased it in diamonds, proudly wearing it as a necklace, despite its malodorous scent. Doctors classified these fervent outbursts as Lisztomania . Some physicians warned that it was contagious.
One Munich newspaper announced in 1843, "Liszt fever: a contagion that breaks out in every city the pianist visits, and which neither age nor wisdom can protect against."
Married aristocrats- including Countess Marie D'Agoult and Princess Carolyne Sayn-Wittgenstein-left their husbands to live with Liszt. Madame D'Agoult had three children by the pianist, including Cosima Liszt. Unfortunately, Princess Carolyne did not have the same luck. Her powerful husband used his influence with the Pope to deny her request for an annulment and, subsequently, dashed her hopes to wed the dynamic pianist.
Liszt was so devastated that he became an Abbé, a secular priest, and turned to composing church music. Later, when his married daughter Cosima left her husband for Richard Wagner, a sober Liszt lectured her publicly (although he privately confessed to a friend that his ecclesiastical position, not his true feelings, required him to do so).
Inwardly, he must have understood the overwhelming power of Wagner.
Similarly, listening to Lizt's music, one can understand the rapture of his fans.
Here is Liebestraum: