Exhibit Review: Van Gogh's "Self-Portrait," 1889, at the Norton Simon, on Loan from the National Gallery of Art, Washington
Review: Van Gogh's "Self-Portrait," 1889 at the Norton Simon
© 2012 Leticia Marie Sanchez
Cultural Cocktail Hour® is a registered trademark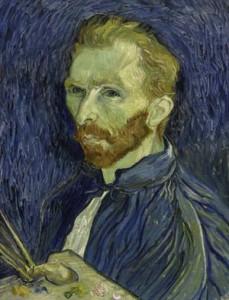 A cool, distant gaze contrasts with the vibrating electric halo of blue brushstrokes surrounding the head of the artist. Van Gogh's "Self Portrait, 1889" on loan from the National Gallery of Art and currently on view at the Norton Simon Museum of Art, contains a rare visual image in the lower left hand corner. Namely, the artist's palette and paint brushes. During his lifetime, Van Gogh only depicted himself three times as an artist, including in the self-portrait now exhibited at the Norton Simon.
At left: Vincent van Gogh (Dutch, 1853 – 1890) Self-Portrait, 1889 Oil on canvas Collection of Mr. and Mrs. John Hay Whitney, National Gallery of Art, Washington 
Van Gogh endured an existence of crushing blows, both romantically and professionally. He failed as a clergyman and art dealer, before pursuing the career of artist. His final endeavor was akin to the metaphorical salmon swimming upstream. Despite painting more than nine hundred works, he sold only one in his lifetime.
Yet, somehow, Van Gogh found the strength and the hope in this portrait to identify himself as an artist. Walk up close to the painting so that you can observe the masterful use of Van Gogh's impasto technique, in which a thick brushstroke adds texture to the canvas. This technique is most delightful in the thick pale pink swirl of color on the palette, which infuses it with a sense of joyful spontaneity. This luscious, lively detail seems to invite us to pick up a paintbrush and create our own worlds.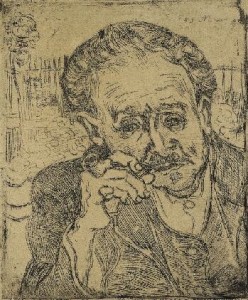 To the left of the self-portrait at the Norton Simon exhibit is the only etching that Van Gogh ever made in his lifetime, that of his homeopathic doctor Gachet. Ironically, it was Gachet who instructed the self-taught Van Gogh in the art of etchings. The doctor was a source of comfort for Van Gogh, encouraging him to continue painting, so it is only fitting that his image be viewed next to Van Gogh's self-assertion as an artist.
At left: Portrait of Dr. Gachet, 1890 Vincent van Gogh Dutch, 1853-1890 Etching on paper 7-3/16 x 6 in. (18.3 x 15.2 cm) The Norton Simon Foundation F.1976.11.G © 2012 The Norton Simon Foundation
Directly in front of the etching of Dr. Gachet are letters that Van Gogh wrote to his friends, the Ginoux family. Although these letters form part of the Norton Simon's permanent collection, their fragile nature requires that they be rarely displayed. It is an added bonus to be able to view them during this exhibit. Again, walk up close to the letters in order to observe Van Gogh's handwriting. His penmanship is Perfect. Controlled. Consistent.  The beauty of these letters is that they defy the well-worn cliché of the "mad artist," one who chaotically throws down paint at random. Instead, his art reflects thoughtful vision coupled with inspiring tenacity;  Vincent Van Gogh knew exactly what he was doing.
Van Gogh's "Self-Portrait," 1889, on Loan from the National Gallery of Art, Washington
Through March 04, 2013
Norton Simon Museum of Art. 411 W. Colorado Boulevard Pasadena, CA 91105 626.449.6840