Seek and You Shall Find..at the Palazzo Vecchio, Florence
Photography and text © 2013 Leticia Marie Sanchez
Cultural Cocktail Hour® is a registered trademark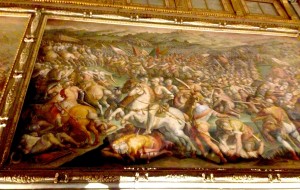 Photo, Left: Giorgio Vasari, The battle of Marciano in Val di Chiana, Palazzo Vecchio, Florence
Inside the Palazzo Vecchio, one can stroll through the Salone dei Cinquecento. This imposing hall for the five hundred members of Florence's Grand Council can inspire Stendhal-like syndrome in those who view the daunting, dazing Vasari frescoes lining its walls. One can only imagine the moment a visiting ambassador stepped into the hall for the first time. The look in the ambassador's eyes as he absorbed the massive, vivid scenes of Siena being conquered, of Pisa attacked by Florentine troops, bodies trampled by muscular horses. Do not cross us, the images seem to warn. Surrounded by such immense intensity, the ambassador suddenly feels very small. Perhaps, he wishes that his boots were an inch taller, or that he worn a larger plume in his velvet cap. Looking upon the ambassador's ashen face, Cosimo de Medici smiles. Mission Accomplished. The negotiation is over, long before it ever began.
Embedded in Vasari's The battle of Marciano in Val di Chiana on a green flag are the words, Cerca Trova. Seek and You Shall Find. This phrase can be interpreted as Cosimo's sarcastic dagger to the Republic of Siena, vanquished by the Duchy of Florence. Seeking independence, the Sienese rebels instead found defeat.
But those words may have a second meaning, one linked to a mysterious, missing Leonardo Da Vinci painting.
For the scoop on the missing Leonardo, please read Cultural Cocktail Hour's report last year, revealing clues on the mystery.
Click on the grey link below: