In the news: Possible Video Clue to Gardner Art Heist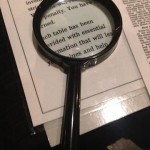 by Leticia Marie Sanchez
Cultural Cocktail Hour® is a registered trademark
The New York Times reports that federal officials have released a video that raises questions about the art heist that took place at the Isabella Stewart Gardner museum 25 years ago.
In the video, which took place 24 hours before the art heist, the security guard allows an unknown man in a waist-length coat to enter the museum. The very next night, thieves entered the museum disguised as policemen, tying up the security guard, and stealing world famous masterpieces.
Although some have speculated that the art heist was an inside job, the security guard maintains that he was a clueless hippie, who often showed up stoned to his job at the museum. The NY Times attempted to contact the security guard, who now works as a teacher's aide, but his wife hung up the phone.The FBI is asking for the public's help in identifying the man in the video.
Questions abound:
1. Was the video filmed 24 hours before a "dry run" for the art thieves?
Or was the gentleman in the video:
a) A member of the security guard's rock band, Ukiah?
b) A Manet scholar hoping to look at the painting in the muted light of midnight?
c) A dealer of herbal substance for the security guard?
2. If the security guard was, in fact, an accomplice to the -$500 MILLION DOLLAR- art heist- involving masterpieces by Manet, Rembrandt, Vermeer, and Degas- why on earth is he still currently working as a teacher's aide in Vermont? If he were involved in a half a billion dollar escapade, shouldn't he be enjoying the fruits of his labor in St. Barth's?
3. Why did the museum allow their staff to show up high to a job at one of the most prestigious institutions in the country?
4. On both instances, this security guard allowed the unnamed visitors (the man in the waistcoat and 24 hours later the art thieves) into the museum when his partner was off doing rounds.Where is the second security guard? What does he have to say about his partner's shenanigans?
5) Why is the F.B.I. only offering a $5 million dollar reward for the return of $500 million dollars worth of art? Shouldn't they up the ante to at least $20 million? At that rate, those paintings are probably being viewed privately from behind a velvet curtain in a penthouse by an oil-rich oligarch.
For the scoop on the recently released video, please see the New York Times: http://www.nytimes.com/2015/08/07/arts/design/25-years-after-gardner-museum-heist-video-raises-questions.html?_r=0