Cultural Cocktail Hour reports from Paris: Garnier and the Paris Opera
A brief history of Le Palais Garnier: Persona Non Grata and the Opera Bombs
By Leticia Marie Sanchez
All Paris Photography and Text © 2012 Leticia Marie Sanchez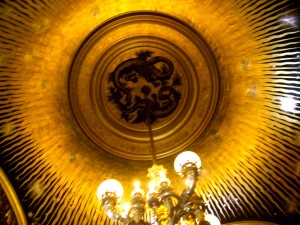 Persona Non Grata
On the exuberant opening night at Le Palais Garnier, the Paris opera, one person was not on the guest list: Charles Garnier, the opera's architect. In order to attend the inauguration ceremony with his wife, the landmark's architect had to pay one hundred and twenty francs out of his own pocket. Persona Non Grata. Persona Non Gratis.
Garnier's status had changed from revered architect to social pariah due to the shift in Paris's political landscape. Garnier had been selected during a competition in 1861 under the reign of Napoleon III. The opening ceremony took place fourteen years later, under a vastly different regime. The government of the Third Republic had an aversion to any associations from the Second Empire, which included the Napoleon-selected Charles Garnier.
How did Napoleon III first come up with the idea for a new opera?
The answer lies in two operas that took the phrase "the performance bombed" to a whole new level.
Opera Bombs
Napoleon III became obsessed with constructing a new opera house after escaping the Grim Reaper en route to the former opera house at Rue Le Peletier. On January 14, 1858, Felice Orsini and his cohorts hurled three bombs at the imperial carriage, killing eight people and wounding one hundred and forty-two others. The emperor and empress, however, survived and attended the evening's performance of Rossini's William Tell. Even if the performance bombed, you could always count on the Napoleons to put in a cameo appearance.
Napoleon III's uncle, Napoleon I also faced an operatic death threat. On Christmas Eve, 1800, a bomb exploded as his carriage headed to the opening night of Haydn's Creation, narrowly missing the emperor. How's that for a Christmas present?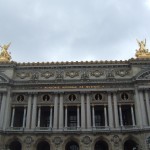 Napoleon III subsequently commissioned Baron Georges-Eugène Haussmann to help rebuild Paris in a way that would increase the city's security. Napoleon III envisioned fortified avenues extending from the Louvre and Les Jardins de Tuileries all the way up the Rue De La Paix. By widening the avenues of Paris, including the path leading up to the new opera, Napoleon III and Haussmann hoped to decrease the ability of pesky troublemakers to set up dangerous barricades on narrow streets.
Now, if you happen to catch a performance that unfortunately bombs, be grateful that no dynamite or shrapnel is involved.
For more photography of the Paris Opera, please see the next article on Cultural Cocktail Hour.