In the news: The missing Caravaggio and "the Pizza Connection"
The missing Caravaggio and the "Pizza Connection"
By Leticia Marie Sanchez
A pilfered painting by Caravaggio has been in the news this month, thanks to an article from Smithsonian magazine that offers new clues to the art mystery. The missing 17th century work, the Nativity with St. Francis and St. Lawrence is on the FBI's list of Top Ten Art Crimes. The painting was stolen in 1969 from the Oratorio di San Lorenzo in Palermo, Sicily where it hung above the altar. One theory posits that the painting ended up in the hands of Gaetano Badalamenti, a mobster who spent his last seventeen years in prison as the leader of a "pizza connection" drug trafficking ring. Other hypotheses include that the painting was gnawed by rats, damaged in a fire, or left in deserted farmhouse.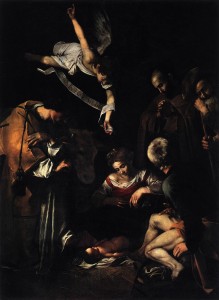 According to Smithsonian, Gaetano Badalamenti, the mobster who ran the "Pizza Connection" ring showed the painting to an elderly Swiss art dealer. The mobster claims that the Swiss art dealer "sat and cried, and cried" upon seeing the work before rather callously declaring that in order to sell it, he would have to divide the masterpiece into pieces. The spurious Swiss dealer has since passed away, according to commission officials.
(Link to the Smithsonian article: https://www.smithsonianmag.com/smart-news/former-mobster-offers-clues-search-stolen-caravaggio-180969231/#4rHgKr4tshYwVMEG.99)
However, the most intriguing piece about the missing Caravaggio (from garage.vice.com) contains information from art sleuth Charley Hill who understands the convoluted tapestry of the various parties involved: the gangsters, church officials, the Carabinieri, the Guardia di Finanza.
In this article below, Hill offers us a glimmer of hope:
"I acknowledge that it's probably a rolled-up cadaver of a Caravaggio, but it's not destroyed. "
https://garage.vice.com/en_us/article/vb34xd/the-case-of-the-mafia-and-the-stolen-caravaggio
Painting above: Nativity with St Francis and St Lawrence, 1609 by Michelangelo Merisi da Caravaggio.