Sneak Preview: Bacchae at the Getty Villa- opening September 6th
Sneak Preview: Bacchae at the Getty Villa- opening September 6th
by
Leticia Marie Sanchez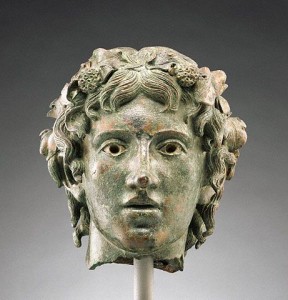 Dionysus (aka Bacchus in Roman) was a busy deity; he was the god of, among other things, wine, winemaking, religious ecstasy, madness and the theater.
Multi-tasking Dionysus: "I wear many hats, er, Ivy Crowns."
Different visual clues can let you know that the deity you are beholding in work of art may be Dionysus: Grape Vines, a Leopard-drawn chariot, the Ivy Crown, or the Thyrsos (pine-cone staff).
What could be a better place than the Getty Villa, with its myriad works of antiquity, to stage a play about the god of theater?
Left: Head from the Statue of the Young Bacchus Artist/Maker: Unknown; Roman Empire; first half of 1st century A.D. Bronze with silver; Object Number: 96.AB.52 Dimensions: 21.6 × 18 × 19 cm (8 1/2 × 7 1/16 × 7 1/2 in.) © Getty Villa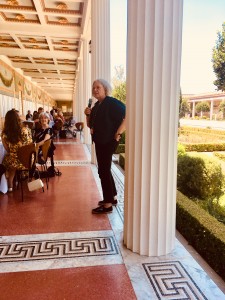 At the press preview for Euripides' Bacchae, the play's director, Anne Bogart, discussed this very notion, dubbing the play "cultural archaeology," in which we can "reexamine the DNA of theater."
Bacchae happens to be the favorite play of many actors due to the fact that it is about theater itself. This play garnered Euripides a first prize award (although posthumously) at the City of Dionysia Festival in 405 B.C. Considered to be Euripides' best work, it was immensely popular in antiquity.
The play offers much food for thought, namely the idea of understanding the origins of theater. As Anne Bogart revealed, the play can help us "figure out where theater came from..where the Big Bang was."
She revealed that behind-the-scenes members of the cast had passionately divergent points of view on the work, due to the fact that Bacchae gets to the heart of what theater means.
Bogart admitted that, in the canon of theatrical works: "It's the Everest."
All Photography below © 2018 Leticia Marie Sanchez