Making a Splash at Christie's Beverly Hills- October 23-27 (Post War Contemporary Sale-Los Angeles Tour)
by
Leticia Marie Sanchez
Art-loving Angelenos will have a chance to check out iconic Post-War paintings at Christie's Beverly Hills this week!
The works on view include David Hockney's Portrait of an Artist (Pool with Two Figures) and Edward Hopper's Chop Suey– which is no chopped liver,- it's estimated to be worth about$ 70 million!
According to Christie's the Hockney's painting is "poised to become the most valuable work of art by a living artist ever sold at auction."
Post War Contemporary Sale – Los Angeles Tour: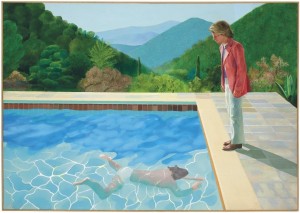 David Hockney (b. 1937), Portrait of an Artist (Pool with Two Figures), 1972. Acrylic on canvas. 84 x 120 in (213.5 x 305 cm). Estimate on request. Offered in the Post-War and Contemporary Art Evening Sale on 15 November 2018 at Christie's in New York © David Hockney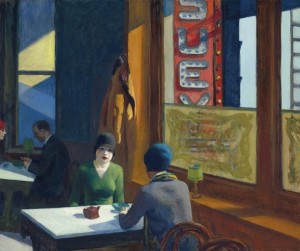 Edward Hopper, Chop Suey (1929).
Oil on Canvas.
32X 38 inches
This painting is from the collection of Barney A. Ebsworth, Courtesy of Christie's New York.
In addition to the Edward Hopper painting, other works on view from the THE BARNEY A. EBSWORTH COLLECTION include"
JASPER JOHNS (B. 1930) Gray Rectangles encaustic on canvas with objects 60 x 60 in. Painted in 1957
JACKSON POLLOCK (1912-1956) Composition with Red Strokes oil, enamel and aluminum paint on canvas 36 5/8 x 25 5/8 in.
GEORGIA O'KEEFFE (1887-1986) Horn and Feather oil on canvas 9 x 14 in. Painted in 1937
STUART DAVIS (1892-1964) Still Life in the Street oil on canvas 10 1/8 x 12 1/8 in. Painted in 1941
GEORGIA O'KEEFFE (1887-1986) Beauford Delaney charcoal on paper 24 1/2 x 18 5/8 in. Executed in 1943
Los Angeles October 23-27
10am-6pm, Sunday 12pm – 4pm
Christie's Beverly Hills
336 North Camden Drive Beverly Hills, CA