The Banksy Self-Destructing Art Mystery
The Banksy Self-Destructing Art Mystery
by
Leticia Marie Sanchez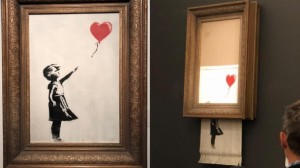 Last week in London, after being sold for 1.4 million dollars at auction, a Banksy painting self-destructed. Banksy's "Girl with a Balloon" had just sold at Sotheby's when a hidden shredder inside the painting began to slice and dice the work, to gasps from the auction crowd.
Photo Credit: Sotheby's
After the stunt, Banksy posted a quote from Picasso on his Instagram account. "The urge to destroy is also a creative urge." Sotheby's Senior Director of Contemporary Art stated in a news released, ""It appears we just got Banksy-ed,"
But many questions remain.
Was Sotheby's in on the stunt? Was the shredder operated remotely? How was Banksy able to get the perfect video of the stunt which he later posted on his Instagram? Some speculate that a curly-haired man at the auction videotaping the painting as it self-destructed was Banksy himself.
Perhaps the whole episode was a wry commentary on the nature of the contemporary art market.
After all, let's not forget that in 2007, after his work sold at Sotheby's for millions, Banksy posted a picture of the auction patrons with the words: "I Can't Believe You Morons Actually Buy This" followed by an expletive. His inelegantly phrased but candid observation has merit; many now believe that the shredded painting will go up in value after this stunt.