2011 Art Crime: Stolen Rembrandt found in Encino Church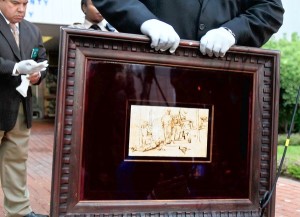 This post first appeared in Cultural Cocktail Hour in 2011:
Only three days after a Rembrandt drawing valued at $250,000 was snatched from the Ritz Carlton in Marina Del Rey, "The Judgement," turned up mysteriously at St. Nicholas of Myra Episcopal Church in Encino.
An assistant priest noticed the drawing placed inside his boss' office. He assumed that it was a donation by a parishioner before recognizing the work as the stolen Rembrandt.
Questions abound:
Why did the art thief dump the painting in the church? Was it a spiritual crisis of conscience? Or a convenient place without security cameras? Did the title of Rembrandt's drawing, "The Judgement," give the thief pause?
How did the art thief get access to the church's inside office? Did he watch Ben Affleck's heist-caper "The Town" too many times and don a nun disguise?
Do we know for a fact that the drawing dumped in the church is the real Mc Coy? Could it possibly be a copy to get the police off the criminal's scent while the thief sells the real painting on the black market to a Rembrandt-loving oligarch? (This is one theory on the current location of Rembrandts stolen from the Isabella Stewart Gardiner Museum)
What happened to the person who "distracted" the curator with art chatter on Saturday at the Ritz, coincidentally at the very moment when the painting was snatched? The articles imply that this person was part of a team? Shouldn't the loquacious interlocutor be an LAPD "person of interest?"
Why did the thief choose to take a Rembrandt from the sailing haven of Marina Del Rey to Encino? He could have made a seaside escape with his looted booty. Is it possible that the art thief is,in fact, a Valley Boy?
Photo from LA Times by Irfan Khan: Detectives handle Rembrandt's "The Judgement"