Badabing Badaboom: Stolen Van Gogh paintings found in Mafia den
Badabing Badaboom
Two Stolen Van Gogh paintings found in home of Naples Mafia boss
In honor of Van Gogh's birthday this week (Happy Birthday, Vincent Van Gogh!)
a Flashback to a news story from 3 years ago, 2016, when 2 Pilfered Van Gogh Paintings were found!
by Leticia Marie Sanchez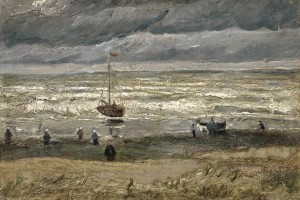 Two Vincent Van Gogh paintings that were stolen from a museum in Amsterdam fourteen years ago have been recovered in the house of a mafia lord at Castellammare di Stabia, near Naples.
The two paintings, Seafront at Scheveningen and Congregation Leaving the Reformed Church in Nuenen, were stolen from the Van Gogh museum in 2002 by thieves who climbed to the roof of the museum using a ladder and then absconded by means of a rope. One of the agile art thieves earned the alias "The Monkey," and the FBI Art Crime Team listed the brazen heist as one of the Top 10 Art Crimes.
What is murky is how the stolen Van Gogh paintings made their way from the hands of the original Dutch art thieves to the luxurious den of the Italian mobster where authorities found the paintings in decent condition.  According to an Italian prosecutor, the mobster runs "one of the most dangerous and active crime groups" in the region. The mafia boss, Rafaelle Imperiale, flew the coop and is believed to be currently running a construction business in Dubai. Italian authorities have requested his extradition from the United Arab Emirates. Investigators have also seized other loot belonging to Signor Imperiale, including apartments, villas and a plane worth an estimated total of $22.3 million. Quite a stash there, goodfella.
Painting Above: "Seascape at Scheveningen" (The Van Gogh Museum)