Cultural Cocktail Hour in Paris: Backstage at Palais Garnier, the Paris Opera, Part II
Backstage at Palais Garnier, the Paris Opera
Part Two
by Leticia Marie Sanchez
All Photography and text © Leticia Marie Sanchez
This article first appeared on Cultural Cocktail Hour in 2012
Charles Garnier declared, "I have two shows in my opera; one on the stage and one in the theater."
The most prestigious box, that of the emperor, was monitored by bodyguards.
Nobles and industrialists had private boxes equipped with a curtain that came in handy for playing cards, ordering food, and engaging in amorous intrigue.
On the ground floor stood working professionals, writers, and composers.
Ladies were not allowed on the ground floor due to the tight conditions and bumping which resulted in occasional fisticuffs. Only prostitutes stood here as very few ladies in the nineteenth century worked as writers or composers.
The very high chicken box nosebleed seats were called Paradise: one was close to heaven but could see nothing.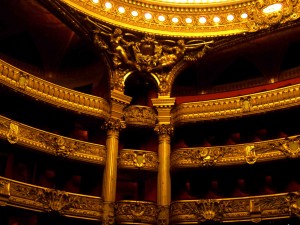 For this beautiful painting on the ceiling of the Paris Opera, Marc Chagall was paid only one Franc!
Chagall was told that he should have created the work for free, due to the honor of the commission, but Chagall insisted on being paid one franc, out of principle.
The canvas pays homage to Mozart, Berlioz, Wagner, Ravel, and Mussorsgsky and is a tribute befitting the moveable feast for the senses at the Le Palais Garnier.