Get Lost! (Lost in Liberty Park, that is)
Editor's Note: This article originally appeared in Cultural Cocktail Hour in 2008.
In 2017, the Sphere moved from Battery Park to Liberty Park, where it now overlooks the World Trade Center site.
Fritz Koenig's The Sphere
by
Leticia Marie Sanchez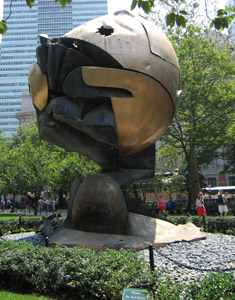 It is the stillness after the storm, a place for reflection on the violence that occurred nearby in lower Manhattan. It is what Mayor Michael Bloomberg called a symbol of the "power of art to heal."
The Sphere, a globe sculpted by the German artist Fritz Koenig, is the only structure to survive and remain standing after the terrorist attack on the World Trade Center on September 11, 2001. The 45,000-pound steel and brass work, its face dented, chipped, fragmented, scuffed and scratched, now rests in a quiet place in Liberty Park, a short distance from Ground Zero.
More than survivor, the Sphere plays the role of witness, a witness that bears physical evidence of the assault. According to an interview in the online magazine Echo Germanica with Koenig's translator, Percy Adlon, "They found the innards of one airplane inside a hole that was ripped open in the top of the sculpture. They found a bible in there, an airline seat, papers from offices on the top floor. It became its own cemetery."
Originally, Koenig was opposed to resuscitating this small graveyard, but, later told the World Trade Center Commemoration on-line, that he eventually realized that, in its scarred survival, the Sphere "has a different beauty, one I could never imagine…it has its own life-different from the one I gave to it."
This sculpture conveys a symbolic spiritual message. Unknown forces transcend human limitations and the struggle for power and domination. The moment when the sun hits the Sphere, casting off gold flecks, marks the transition from minor to major, melancholic cords yielding to harmony.
Confused at the panoply of memorabilia on the lawn, a little boy asks his mother, "What do we take?"
Embarrassed, his mother scolds him, "We don't take anything. We're just looking at it."
But looking is itself a form of appropriation. Each person takes away something different. Observing the scene was Asia Henderson, a Park Enforcement officer from the city, someone who sees The Sphere every day. When asked what the statue meant to her, she paused. "It's a symbol of hope. Life goes on."
Upon exiting Liberty Park you will find yourself on the New York streets with the bustle of cars, red sightseeing buses, taxies, sirens, and honks. Life goes on, on the streets, near Ground Zero, in Manhattan skyscrapers, in private homes.
Anyone who yearns for that moment of stillness after the storm should Get Lost, lost in Liberty Park, and visit the tree-sheltered Sphere.