Review: The 2019 Hampton Designer Showcase House in Southampton
Cultural Cocktail Hour® is a registered trademark
Review:
An artistic oasis in Southampton
by Leticia Marie Sanchez
Photo Left: Cultural Cocktail Hour Editor-In-Chief Leticia Marie Sanchez at the 2019 Hampton Designer Showhouse presented by Traditional Home to benefit Stonybrook Southampton Hospital.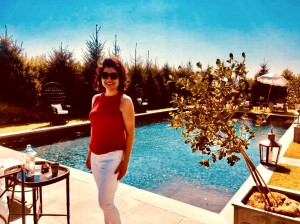 What struck me about the design of this Southampton retreat on Rosko Lane was that it was simultaneously a calm, light-filled seaside escape as well as a dynamic, cosmopolitan space for entertaining guests. This moveable feast of textures and colors made both the indoors and outdoors an artistic oasis.
Many design firms were involved in creating the distinct features of the house, and I will highlight a few that caught my eye:
Alessandra Branca designed the living room that balanced tranquility with modern touches like these on the left.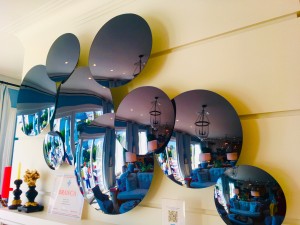 In the Master Bedroom by Morgan Harrison Home, a dreamy peach palette framed the verdant nature of the Hamptons outdoors; it was a very painterly, landscape portrait effect. (Photo Left)
One of my favorites was the whimsical lounge and bar designed by Betsy Wentz of design firm Studio B. The colorful, indoor bar featured sofa covered in Christian Lacroix velvet stripe and Designers Guild velvet.
(Photos Below)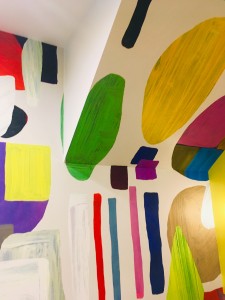 The Pool Surround designed by Brittany Bromley Interiors and Bromley Landscape Design.
The elegant soigné coiffeur of the figures on the right (looking a bit like Marie Antoinette!) were designed from seashells. Very befitting of a seaside home!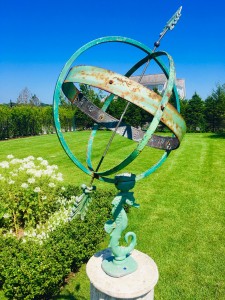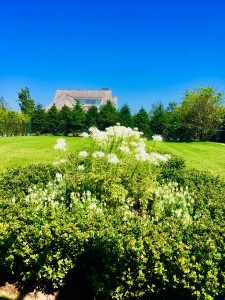 Photo Left: Artistic Inspiration in the Salon designed by Megan Gorelick Interiors
A lovely afternoon of creative inspiration in Southampton!
All photography and text ©2019 Leticia Marie Sanchez