The Christmas fruitcake fiasco: Puccini versus Toscanini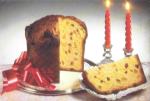 In the spirit of the season Cultural Cocktail Hour will share a holiday favorite!
In her revealing book, Secret Lives of the Great Composers, Elizabeth Lundy described a fruity fiasco between two rivals: opera composers, Giacomo Puccini and conductor Arturo Toscanini:
"During the years of Puccini and Toscanini's feud, they had very little contact- except for one Christmastime incident. That year Puccini forgot to remove the conductor's name from the list of friends to whom he sent the traditional Italian holiday gift, a pannetone cake.
When Puccini realized his error, he sent Toscanini a telegram reading:
"PANNETONE SENT BY MISTAKE. PUCCINI."
Toscanini replied, "PANNETONE EATEN BY MISTAKE. TOSCANINI."