Picasso and Monets– burnt to a crisp?
Picasso and Monets—Burnt To a Crisp?
by Leticia Marie Sanchez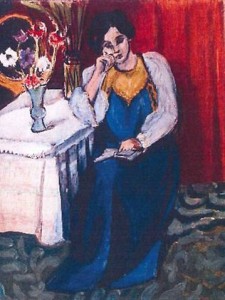 Cultural Cocktail Hour® is a registered Trademark
Left: Matisse, Reading Girl in White and Yellow(1919)
Ed. Note: This article first appeared on Cultural Cocktail Hour in 2016
Will she ever see the light of day?
Carmelized Monet. No, this is not a trendy Crème Brule whipped up by a chef obsessed with molecular gastronomy, but quite possibly one of the most heinous art crimes covered by Cultural Cocktail Hour.
Olga Dogaru, mother of art thief Radu Dogaru, confessed to using her oven to set ablaze seven masterpieces valued at between 100 and 200 million Euros including works by Picasso, Matisse, Gaugin (and two by Monet) as if they were no more than slices of pizza.
Dogaru's son Radu was the ringleader of a group of six Romanian art thieves who broke into Rotterdam's Kunsthal museum last October with a set of pliers. After her son's arrest, Mama Dogaru hid the pilfered artworks in a graveyard in the village of Caracliu (Talk about unresponsive audiences).Then, Ms. Dogaru essentially transformed this case from art kidnapping to outright art murder.
What museums desire most is to retrieve their works. Ergo, most art thieves with an IQ higher than a gnat realize that keeping the works intact can be a future bargaining chip in order to reduce their sentences.
In the dim attic of Ms. Dogaru's mind, however, the light bulb went off a bit too late.
According to an interview with People magazine, Ms. Dogaru revealed her recent epiphany, "I sense I made a big mistake."
Alas, sense and sensibility does not seem to be her strong suit. Moreover, with the classic Parenting 101 mistakes exhibited by Mrs. Dogaru (enabling, aiding, abetting, barbecuing Cubist works), it was inevitable that her mama's boy would not wind up an Eagle Scout.
Of course, now the case has its inevitable twist. According to Reuters, forensic experts linked Mama Dogaru's humble oven to the traces of a specific Prussian Blue paint in addition to other materials corresponding with the missing paintings. And yet, despite all evidence to the contrary, her son now claims that his mother's initial confession was all a lie. That if he is somehow transported away from the blasted Bucharest courtroom and allowed to be tried in the Netherlands, he will reveal the paintings' location.
Recently, however, the trial was delayed due to offending footwear. The art thief's defense attorney donned blue suede shoes, which sent the judge into a tizzy. The judge fined the attorney more than 1400 dollars for his bold fashion sense. Unfortunately for Radu, having an attorney who dresses like Elvis is the least of his problems.