Michelangelo: Mind of the Master at the Getty Center – MUST SEE Exhibit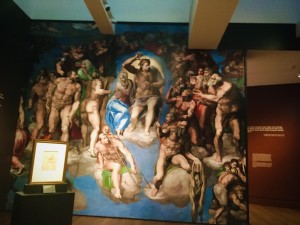 Review: Michelangelo: Mind of the Master-
Must SEE Exhibit
February 25-June 7, 2020
Getty Center
by
Leticia Marie Sanchez
What does it mean to be a genius? Artists throughout history have sought to mythologize their own personas, creating an aura of mystique around their identities as divinely inspired individuals. As part his self-created flamboyant persona, Salvador Dalí drove a cauliflower-stuffed Rolls Royce and showed up to a surrealistic exhibit dressed head-to-toe in scuba gear.
In Michelangelo's case, the Renaissance maestro tragically destroyed the majority of his 28,000 drawings so that the public would not realize that he had struggled for his art; Michelangelo preferred that people believed that his breathtaking masterpieces, like the frescoes on the Sistine Ceiling, were works that he created spontaneously.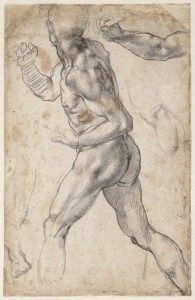 On several occasions, Michelangelo ordered his drawings to be burned. His biographer Giorgio Vasari noted that Michelangelo made this decision "so that no one should see the labors he endured and the ways he tested his genius, and lest he should appear less than perfect."
Image Left: Striding Male Nude, and Anatomical Details, 1504 or 1506, Michelangelo Buonarroti, black chalk with white heightening. Teylers Museum, Haarlem. Purchased in 1790. © Teylers Museum, Haarlem EX.2020.1.3
Out of more than 28,000 drawings by Michelangelo, only 600 survived his intent to destroy them. Currently on view at the Getty are twenty-eight drawings that reveal the artistic process behind masterpieces including The Sistine Ceiling, The Last Judgement, and The Holy Family. Most of the surviving sketches hail from the collection of the 17th century monarch, Queen Christina of Sweden, an arts enthusiast who abdicated the throne and moved to Rome where she built an impressive art collection. The collection of Michelangelo's drawings was then housed in the Teylers Museum, the oldest museum in the Netherlands and have been there since 1791. The Michelangelo exhibit was organized by the Teylers Museum in collaboration with the J. Paul Getty Museum and the Cleveland Museum of Art. At the Getty, this exhibit was curated by Julian Brooks, Senior Curator Of Drawings and Edina Adam, Assistant Curator of Drawings.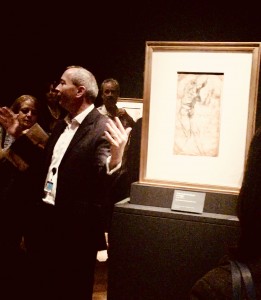 At left: Julian Brooks, Senior Curator of Drawings at the J.Paul Getty Museum
What makes this exhibit a MUST-SEE is the fact that the opportunity to view Michelangelo's drawings is, as stated by J. Paul Getty Director Timothy Potts, "a once-in-a-lifetime experience." According to Potts, this collection is on view for the first time in the United States as many of these drawings have never left Europe. The surviving works have to be rationed in terms of their exposure to light.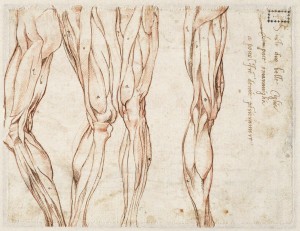 Image Above:
Four Studies of a Left Leg (verso) 1515–20, Michelangelo Buonarroti, red chalk, retraced with pen and brown ink. Teylers Museum, Haarlem. Purchased in 1790. © Teylers Museum, Haarlem EX. 2020.1.23
The exhibit allows one to explore Michelangelo's work as a painter, sculptor, and architect. One can view his detailed anatomical sketches: Michelangelo studied dissected corpses to better understand the underlying muscles.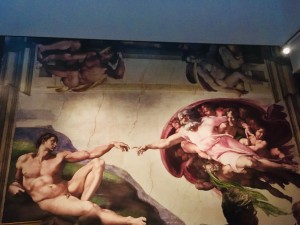 In terms of the curatorial conception, the monumental transportive atmosphere evoked by vivid replicas on the exhibit walls makes one feel as though one has traveled to Italy to the iconic sites created by Michelangelo.
Surrounded by immense replicas of The Creation Of Adam, The Last Judgement, and The Medici Chapel Tombs one can view the intricacy in the individual drawings of Michelangelo on display, tiny pieces of a massive artistic jigsaw puzzle in the context of his epicworks.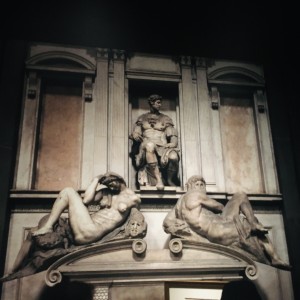 Photo Left: Replica of the Medici Chapel, Florence at the Getty Center
For instance, on view in front of the glorious replica of The Creation of Adam is Michelangelo's drawing of the leg of God.
Having the ability to view this micro level of detail first hand at the Getty and the labor intensive process behind such large-scale works underscores how mind-boggling it is that Michelangelo completed the entire Sistine Ceiling fresco cycle in only four years.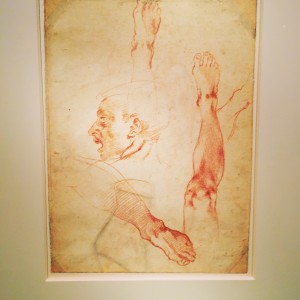 And let's not forget that Michelangelo was also a master architect and took on the project of St. Peter's Basilica when he was 72 years old. At the Getty, one can also view Michelangelo's drawings for the cupola of Saint Peter's Basilica towards the end of the exhibit. Seeing that drawing in the context of his drawings for painting and sculpture makes one realize that we have only hit the tip of the iceberg when it comes to delving into the mind of this quintessential Renaissance Man.
CCH Editor-In-Chief Leticia Marie Sanchez interviewed Julian Brooks about Michelangelo's fierce privacy when it came to protecting his drawings from the public eye. Some of Michelangelo's drawings were stolen during his lifetime by sculptors who broke into his Florence studio. In addition to not wanting to dispel the myth of spontaneous divinely inspired genius, Brooks suggested that a second reason for Michelangelo's burning of his own drawings had to do with intellectual property concerns; he did not want another artist to copy any of his works. Seeing the labor of love, the intense detail, and the meticulous level of anatomical study, we realize that even if a lesser artist had been able to get their hands on his drawings, they would never have been able to recreate one of his masterpieces: after all, there is only one Michelangelo.
Photo Left: Third Image, Leg of God from the Creation of Adam
[Image at Top of Article: Wall Replica of Michelangelo's The Last Judgement at the Getty Center]