Review: Lucia Di Lammermoor at LA Opera
Cinéma Vérité
Lucia Di Lammermoor at LA Opera: A Must See Production
by
Leticia Marie Sanchez
(*Spoiler Alerts* on opera plot)
LA Opera's Lucia Di Lammermoor is like a double feature: for the price of admission, you get to see both an opera and a film. Except that they both play at the same time, with an intriguing result.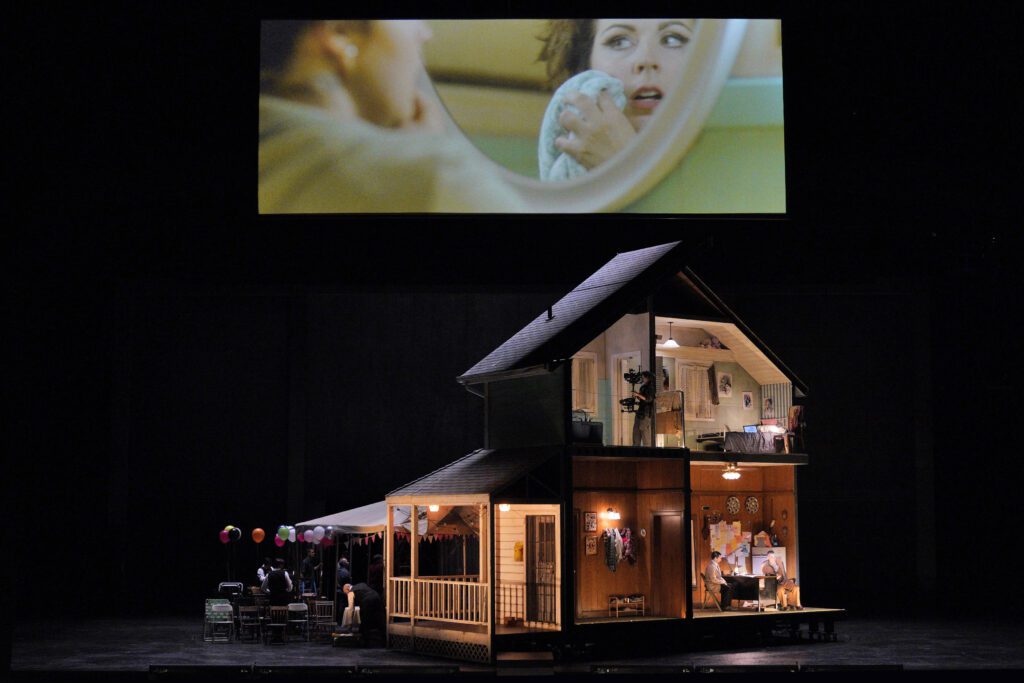 Simon Stone's tour de force production uses a cinema screen portraying close ups above the action that is happening on the stage; Stone is a director in theater and film, and his versatility in both genres is a huge asset to the production.
I will admit that I was formerly a stickler for historically-set productions; for instance, Achim Freyer's Star Wars-esque take on the Ring Cycle many years ago distracted from the music.
But Stone's production at LA Opera made a convert out of me. His sensitive choices enhance Gaetano Donizetti's 19th century opera by shedding light on aspects of the narrative through a new lens.
For instance, in an interview, Stone pointed out that the character of Lucia, forced to marry against her will, is often simply reacting to other characters and their decrees of how she should live. Stone uses the film sequences to give the female protagonist her own agency and voice, adding shades of depth to her character.
Stone's innovative touches save the opera from the realm of melodrama, adding gritty realism, intimacy, and immediacy to a large-scale production.
The impressive ever-moving set transports Lucia from a gloomy 17th century Scottish castle to a former factory town in modern-day Michigan. With its dilapidated buildings, pawn shops, and pay day advance stores, the town itself is symbolic, emanating an atmosphere of frustration and melancholy. Just as the towns people are stuck in an economic depression, Lucia herself is trapped, eventually reacting like a caged animal and committing a desperate act of violence.
It is precisely during the "mad scene," that the use of the film is especially powerful. Covered in blood, not far from the corpse of the man she was forced to marry, Lucia sings about her fantasy: a dream world in which she is meeting her beloved Edgardo to be his bride.
It is in this show stopping aria, "Il Duoce Suono," that the cinematic lens is incredibly moving. While the actress below is drenched in blood, the screen above portrays Lucia's fantasy world, the parallel universe and ending that the audience would have much preferred to see instead of the bloody tragedy: Lucia's giddy, happy reunion and marriage with her beloved to whom she made sacred vows. The lens shows us what could have been.
Moreover, the lens is one of the most sensitive treatment to the "madwoman" trope that has permeated music and literature. The lens, from a psychological perspective, shows Lucia's disassociation from reality after being subjected to cruel pressure. In today's world, many young women around the world are still subjected to forced marriages and brutal"honor" killings, and they don't have a voice.
What was impactful about LA Opera's production (co-produced with the Met) is that it finally gives Lucia her due.
Furthermore, the singing and acting ability of the stars of the show, led to ongoing standing ovations on opening night.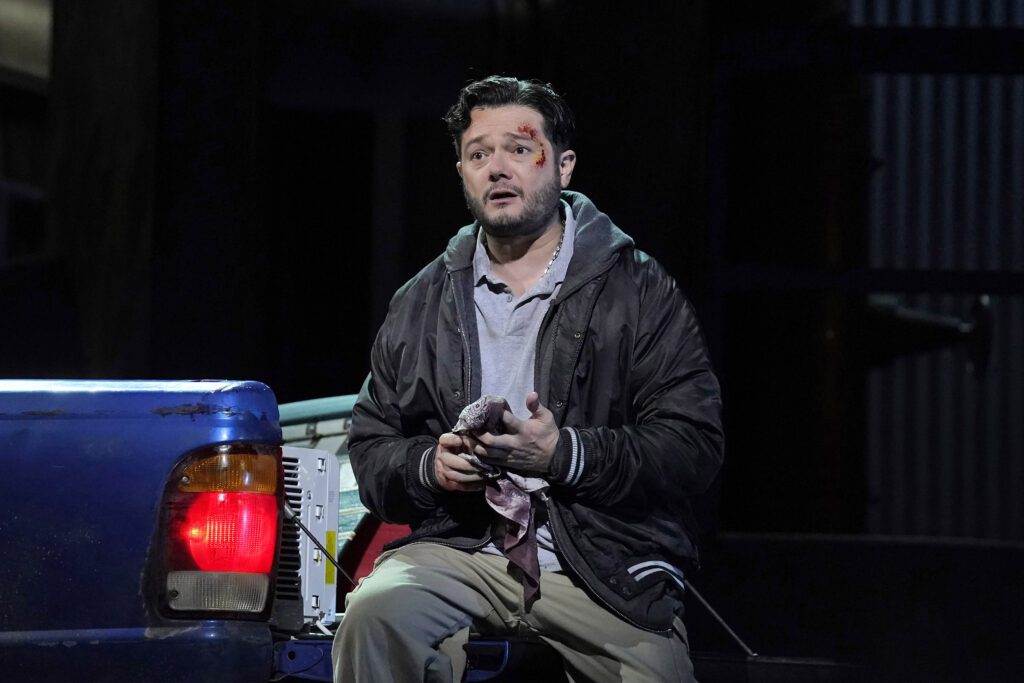 Tenor Arturo Chacón-Cruz (Edgardo) was riveting as a romantic lead, as his acting ability matched his singing. Amanda Woodbury as Lucia was a revelation. Her powerful singing of such demanding arias brought done the house several times, keeping the audience at the edge of their seats. At the same time, due to her exceptional and nuanced acting ability she was perfectly cast as the heroine in the intimate close ups in the film clips. (Soprano Liv Redpath will be performing Lucia September 29-October 9).
The two leads were thrilling components of an unforgettable night at the opera.