Review: Itzhak Perlman and Beethoven at the Hollywood Bowl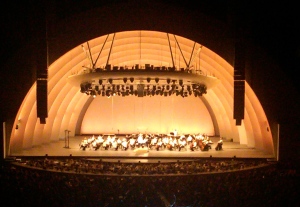 By Leticia Marie Sanchez
The program notes for Tuesday's concert at the Hollywood Bowl included a 1920 quotation from Italian musician and conductor Ferrucio Busoni, "With Beethoven humanity enters into music for the first time."
Busoni's postulate also holds true for the humanistic performance of violinist and conductor Itzhak Perlman who led the Los Angeles Philharmonic's in an all-Beethoven program including Romance No. 1 in G Major, Romance No. 2 in F. Major, Symphony No. 8 in F Major, and Symphony No. 5.
The indefatigable Mr. Perlman had the dual role of violist and conductor at Tuesday's magnificent performance. Mr. Perlman's sensitive interpretation of Beethoven had guts, soul, and heart.
As a conductor, Maestro Perlman is easily the best one to have graced the stage of the Hollywood Bowl for his talent in bringing out the best in each individual member of the L.A. Philharmonic Orchestra. Instead of turning Beethoven's pieces into loud, showy works, as other conductors are apt to do, Mr. Perlman wisely elicited the nuance and texture brought about by each individual instrument, probing the depth and rich emotions of each piece. To the Hollywood Bowl's credit, its video projection screens complemented the nuanced performance by providing close-ups of the individual members of the string, brass, woodwind, and percussion sections coming to the forefront at any given moment of the Beethoven Program. The perfect rhythms elicited by Mr. Perlman made the L.A. Philharmonic soar seamlessly as one, as they did during the Fourth Movement (Allegro) of the 5th Symphony.
Perhaps, none said it better than E.T.A. Hoffman: "the soul of each thoughtful listener is assuredly stirred, deeply and intimately, by a feeling that is none other than that unutterable portentous longing, and until the final chord — indeed, even in the moments that follow it — he will be powerless to step out of that wondrous spirit realm where grief and joy embrace him in the form of sound."
The audience was electrified after such a soulful interpretation of Beethoven, rendering a once-familiar composer a newfound treasure. After the finale, I, and those near me, sat in our seats, stunned, tears flowing down our cheeks.
Thank you, Maestro Perlman for a life-changing experience and a memory that I will never forget