Flashback to last summer- Painting à la Pollock, East Hampton, 2019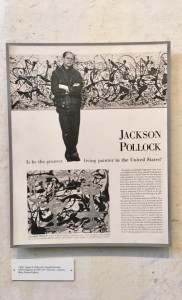 Painting à la Pollock:
Child's Painting Class and Tour
at Jackson Pollock's Home,
East Hampton
by
Leticia Marie Sanchez
Photography and text © 2019 Leticia Marie Sanchez
Cultural Cocktail Hour® is a registered trademark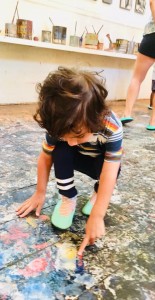 Painting with my 4-year-old son underneath the sun dappled trees at Jackson Pollock's home as we overlooked the abundant natural beauty of the Accabonac Creek proved one of the most treasured moments on my artistic foray to the Hamptons.
My son and I participated in the wonderful Imagine That! Tour and art class led by engaging art educator Joyce Raimondo.
The class commenced with a tour of Jackson Pollock's studio, where the children searched for traces of the artist's footprints in the vibrant floor covered by vestiges of his drip painting.
The children then peered through a book showcasing Pollock masterpieces that currently hang at world famous museums in order to match the color palette of these paintings with the spot on the floor on which they were created.
In addition to the art detective work by the children, old paint cans and images of Jackson Pollock made the studio experience vivid and compelling.
From the studio, Joyce led us up the stairs to Jackson Pollock's home where he lived with his wife, artist Lee Krasner. We stepped back in time, as my son discovered old fashioned telephones and viewed Pollock's collection of hi-fi phonographs.
After we toured the home, Joyce led us outdoors where the children created their own drip painting à la Pollock.
We sat in a blissfully serene spot under the trees. I was struck by the enveloping beauty of East Hampton with its arboreal splendor and vistas of sky blue water on the horizon.
Photo Left: Accabonac Creek at Jackson Pollock's Home.
No wonder Jackson Pollock felt inspired!
Drip Painting Class at Jackson Pollock's Home: