Review: Immersive Van Gogh LA: A Balm for the Soul in Uncertain Times
Review: Immersive Van Gogh Los Angeles
by
Leticia Marie Sanchez
The Immersive Van Gogh exhibit transformed this once hesitant audience goer into a true believer. A few weeks ago, this incredible show had encountered a bump in the road to opening day in Los Angeles, due to a delay in receiving their fire permits from the city. The opening few days were postponed, leading some to debate giving the show a second chance. I decided to venture viewing it again; to my delight, taking the chance was definitely worth it.
In 2018, in Paris, I saw the Immersive Klimt show by the same producers, which was a revelation; it was the catalyst behind my decision to view Immersive Van Gogh Los Angeles. I didn't think it could get any better, but it did. I was floored. It became more personally meaningful to this precise moment in time. Experiencing the Immersive Van Gogh show during the pandemic year proved uplifting.These past eighteen months, our eyes have been exposed to dystopian images of sickness, death, political turmoil, and now, international chaos.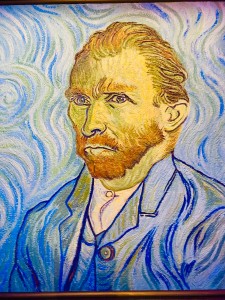 Blue Van Gogh Wall
What I took away from the exhibit was a sense of Hope, that last vestige in Pandora's Box, when the world seems awry.
In fact, the first brief moments of the exhibit are bit dark, as one walks through a dim corridor into the metaphorical recesses of Van Gogh's troubled mind.
But then, darkness gives way to light. And not just any light. A supernova of of dazzling proportions, the projection of healing, a prolific vision of intense beauty that helped Van Gogh cope more than a hundred forty years ago. And a beauty that can help us cope today.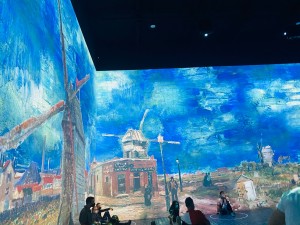 The icing on the cake, or perhaps the co-star to the art was the seamlessly juxtaposed musical score. Modest Mussorgsky's "Pictures at an Exhibition" came on at a particularly apt and dramatic time as did Adagio for Strings recomposed by Luca Longobardi. The audience sat rapt and awed, like church goers in a sacred ritual. These sacred dwellers sat six feet apart, donning masks, visual cues that the pandemic is still with us.
Yet, the preponderance of whimsical, carefree, touches, like the real indoor coffee bar in the lobby, a bar surrounded by a wall of sunflowers, make us smile and forget.Sometimes, stepping inside an alternative universe of art and beauty is just what the doctor ordered!